1902 Bolide 8hp
The car was purchased by Ossie Bennett (Johnstown) in 1976. Alan Wilson happened to be in the Ossie's garage when it was brought home and was suitably impressed with the car. Jim Ryan, of Durrow, worked for Ossie and knew him well enough to persuade Ossie to part with it. Jim purchased the car some time in the early eighties
In 1986, Finbarr Corry visited Jim and did an article on the car which was featured in one of his publications. During the rebuild, Alan and his father, Alan Snr, helped with the fabrication side of the restoration work.
Sadly, Jim passed away in 2000 and the car was sold back to Ossie where it remained until 2009 when Derek Wilson purchased it. A full restoration was undertaken with the plan of competing in the 2011 London to Brighton run being the aim. Unfortunately, this didn't happen but a concerted effort ensured it took its place in this years event ensuring it reached Brighton this time.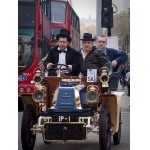 Click here for more pictures.